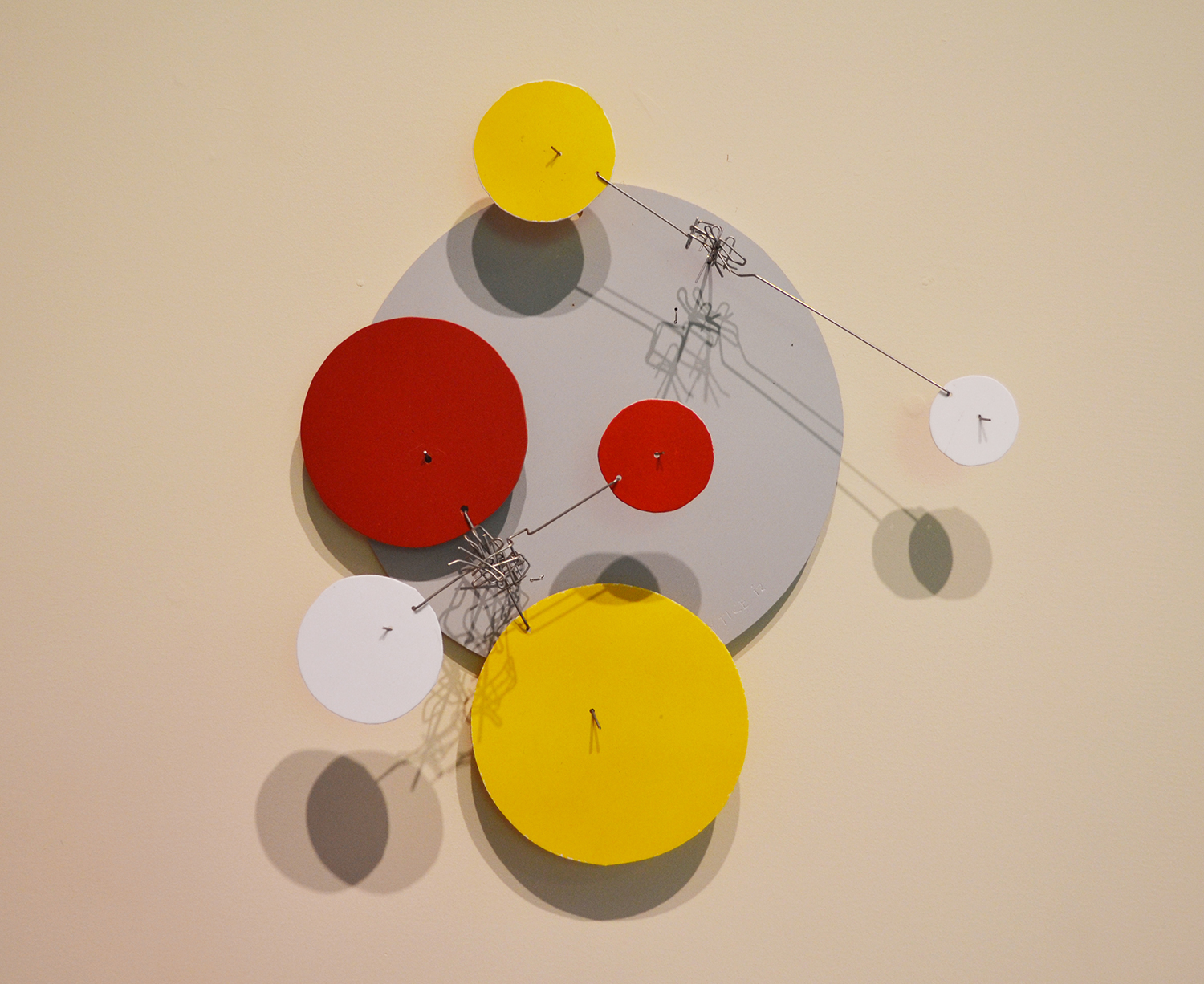 Two of Each
Aluminum and stainless
Dimensions fluctuate manually
Nine Diamonds
Stainless and aluminum
15 x 15 x 3 inches
Red Eyes
Aluminum and stainless
Dimensions fluctuate manually
Golden Bough
Painted aluminum & stainless steel
44 x 24 x 14 inches
Red Dot Wheel
Lexan, aluminum and stainless steel
38 x 38 x 7 inches
Vine Study
Aluminum and stainless steel
40 x 19 x 9 inches
8+8
Painted aluminum and stainless steel
22 x 14 x 9 inches
Signal
Painted aluminum and stainless steel
30 x 8 x 9 inches
Zig Zag
Painted aluminum and stainless steel
20 x 7 x 7 inches
Shiny Rod
Painted aluminum, stainless steel and polished aluminum
43.5 x 18 x 10.5 inches
Red Dots
Painted aluminum and stainless steel
17 x 14 x 8.5 inches
Silver Warp
Aluminum and stainless steel
31 x 15 x 4 inches
Dot Clock
Painted aluminum and stainless steel
40 x 40 x 9 inches
Funky Square
Aluminum and stainless steel
15 x 15 x 3 inches

Varying Radii
Painted aluminum and stainless steel
27 x 27 x 27 inches
Color Studies
Lexan, PVC and aluminum
18 x 18 x 4-7 inches
Three Curtains
Lexan, aluminum and stainless steel
36 x 36 x 6 inches each
All Gold
Painted aluminum ad stainless steel
30 x 11 x 3 inches
Black Stripe
Painted aluminum and stainless steel
18 x 12 x 3.5 inches
Two Golds
Painted Aluminum and stainless steel
13 x 11 x 3 inches
Tim Prentice, kinetic sculptor, received a Masters Degree in architecture from Yale in 1960 and founded the award-winning architectural firm of Prentice & Chan in 1965.
Ten years later, he established a studio in Cornwall, Connecticut to design and fabricate kinetic sculpture. His large-scale sculptures have been commissioned by airports, hospitals, universities, libraries and other public venues throughout the United States. His corporate clients include American Express, Bank of America, Mobil, AT&T, Hewlett-Packard, Wells Fargo, Astra Zeneca, Samsung and Capital One. In the last few years he has completed installations in Switzerland, Taiwan, Japan, Korea, Northern Ireland, Australia, Hong Kong and Cameroon.
He is known for his moving sculptures that are influenced by the slightest ripple in the environment. A light breeze or current of air from a heating and cooling system can set his lightweight, aluminum and stainless pieces swaying and undulating in silent rhythm.
Prentice has over 150 pieces in private collections as well as in excess of 140 public and corporate commissions. His work has been featured in many high profile group and individual shows and installations.